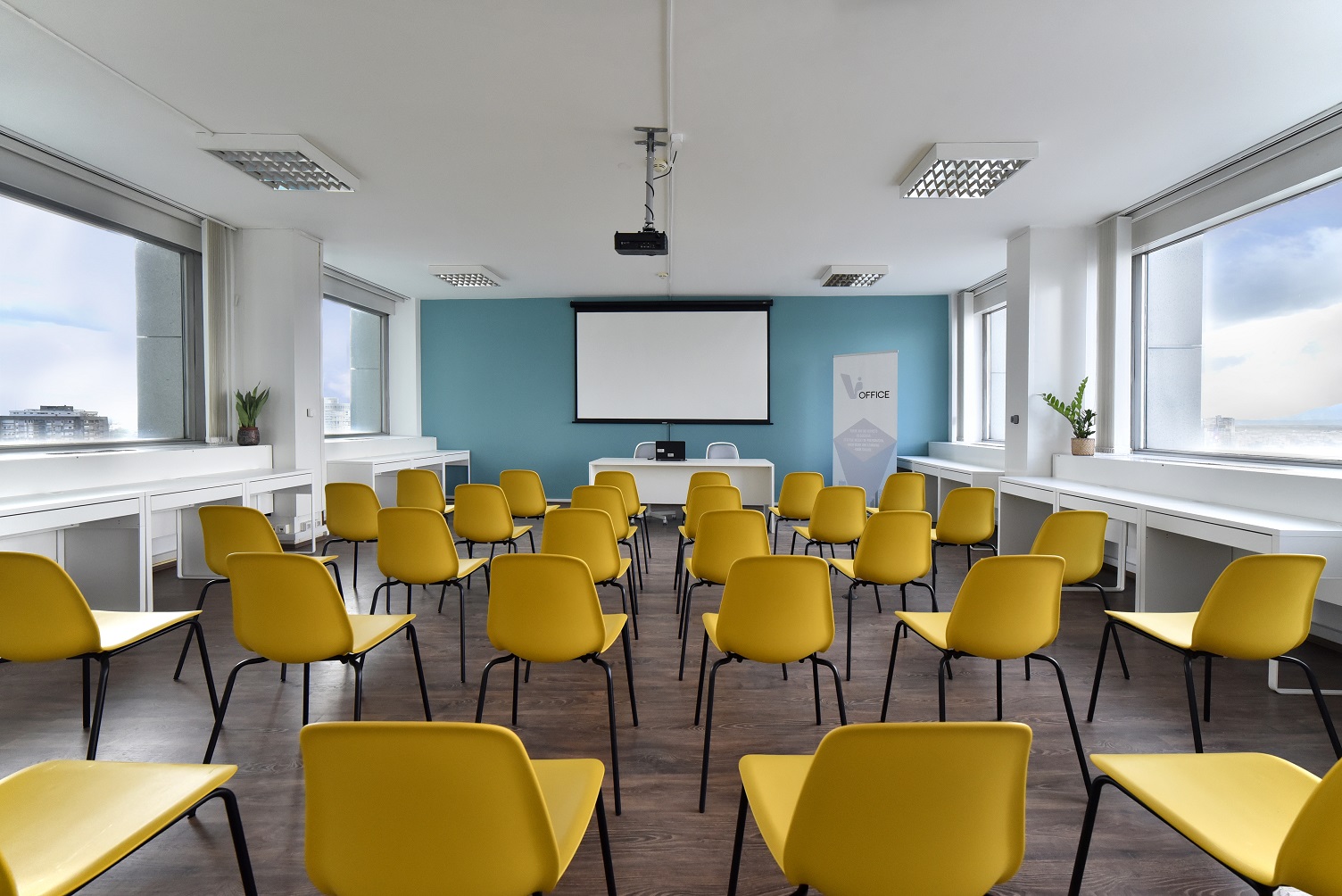 The hall is located on 15th floor and has large glass windows with beautiful view at the city. It is situated within large office space that covers a surface of 500 square meters (which are on 9th and 15th floor of business skyscraper Zagrepčanka). With the use of hall also comes entrance lounge room, furnished kitchenette, sanitary facilities and outdoor balcony (on the balcony is allowed smoking).
The capacity of the hall depends on the layout of the hall itself, which is divided in two basic layouts (see the photos below). The first layout is ''theater'' layout that has maximum capacity up to 50 people + lecturers. The second layout is ''classroom'' layout that is ideal for every kind of training and workshops and comes with additional desks. The maximum capacity is up to 15 people (15 desks).
Except for the two basic layouts we are able in agreement with the clients to arrange the hall in different layouts according to the wishes and needs of the use of the hall.
Price includes:
– consumption of coffee, tea and water
– wireless internet
– laptop,
– projector and screen,
– flipchart,
– pointer,
– use of the balcony (smoking allowed),
– entrance lounge room.
Prices and additional services
The hall rental price ranges from 190 HRK per hour to 380 HRK per hour (+ VAT).
The maximum capacity is 15-50 people, depending on the layout of the hall and the situation with COVID-190.
Catering
Administrative support of the secretary
Event management
Marketing support
PR promotion service
Print/scan/copy services
The rest as needed
Feel free to contact us!
Call us on +3851 353 5905